Blackah Family
Blackah Family
It is said that the Blackah family, or Blackey as they were originally called, were originally from Scotland, but I have seen no evidence to support this.
The family name changes with time and location, the early form is BLACKEY, the first recorded of such is Maria, wife of Thomas Blackey who is recorded as being "of Greenhow" when she died in 1697.
The BLACKAH variant started on Greenhow with Joseph Blackey, born at Greenhow in 1794 to Joseph Blackey & Ann Ward of the same place. Joseph (1794-1873) started calling his self BLACKAH and all his descendants use the same spelling; this variant seems confined to them only. The photo on the left is of Joseph Blackah (1794-1873) and his wife Ann (1797-1870), nee Dunn.
Their main occupation was lead mining. It was the closure of the lead mines that caused the Blackey's/Blackah's to move away from Greenhow. Some mines were becoming worked out and the price of lead fell to an uneconomic level. Most moved to the major towns of Leeds & Bradford, but some finished up at Portsmouth. Thomas Blackah (1826-1895) moved to Leeds and it was here that the variant BLAKEY appears to have been used.
One branch of the family starting with Francis Blackey, born 1791 at Grassington moved down to Todmorden via Barnoldswick, this branch of the family started using another variant of the name – BLACKA.
Some members of the Blackah family had other talents as well as mining and farming.
One, Thomas Blackah (1826-1895) was an accomplished poet, writing in his native Yorkshire dialect. See Poems by Thomas Blackah.
Musicians in the Blackah family
They were all very musical, at least three of them were members of the Greenhow Hill Victoria Brass Band which used to play in Greenhow Chapel. When the Chapel got an organ, they could not play, which caused a great deal of trouble. The band was thought to be very good and was much sought after on festive occasions in the area. There were 17 in the band:
| | |
| --- | --- |
| Joe Mackwell | 1st Cornet |
| John Green | 2nd Cornet |
| Ann Green | Bass |
| Thomas Blackah | Bass Instrument (Bruff says French Horn) |
| Richard Blackah | A Horn going right round his body |
| Jossie Blackah | Bass Instrument |
| Maw Simpson | Single Bass |
| Will Green | Big Drum |
| Thomas Wilkinson Marshall | Little Drum |
| R Mackwell | A round Instrument |
| Duncan Mackwell | 1st Fiddle |
| Jackie Green | Double Bass |
| ? | Trombone |
| 4 others | String Instruments |
Nathaniel Grainge was also in the band according to William Longthorn. This information was from Henry Newbould via Harald Bruff.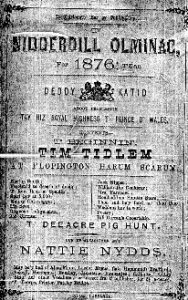 Thomas Blackah wrote many poems and prose, mainly in the Yorkshire dialect, but some also in English. He was a constant contributor to the local papers; some of his prize poems he had printed and sold for a few pence.
A collection of his poems was published under the title "Songs and Poems in the Nidderdale Dialect" in 1867. He also wrote and published for some years a dialect almanac "T' Nidderdill Oliminac" under the pseudonym of Nattie Nydds.
In 1937 Harold Bruff, with the help of some of his descendants published some of his works in a book called "Dialect Poems and Prose" together with a short biography.
Thomas Blackah emigrated to America in 1857, but found that he had been deceived by the emigration agent and soon returned. He wrote and circulated a description of his experiences still extant, which is a terrible indictment of which was allowed on board the passenger sailing vessels.
Inscription engraved in Cockhill Level in the second shale band from the entrance reads:
BLACKAH
A.32
1858
This inscription is likely to be that of Thomas Blackah (1826-1895) as his birth year from above would be 1826.
See also: