Providence Place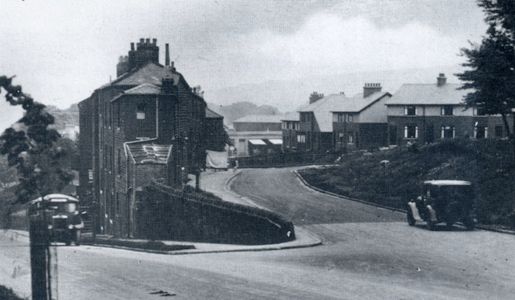 Situated about half way between Sowerby and Sowerby Bridge, in a triangle of land between Fore Lane Avenue and Sowerby New Road.
Most of the houses have now been demolished apart from the odd one.
One wonders why the houses were built here, trapped in a narrow, steeply sloping patch of land? Was it something to do with the White Windows estate, also between these two roads, but at the "thick" end of the wedge overlooking Sowerby Bridge?
Plan of Providence Place based on the Ordnance Survey 1964 1:2500 Map
1911 Census


No
Name
Rel
Age
YOB
Occupation
Where Born
1
MARSHALL, Eliza
Head
43 
1868
Laundry Washer
Worcestershire
1
THOMPSON, Robert


Boarder
26 
1885
Brass Polisher
Manchester, Lancs
2
DYSON, Willie
Head
28 
1883
Blanket Finisher
Sowerby Bridge
2
DYSON, Annie


Wife
31 
1880
Blanket Weaver
Sowerby Bridge
3
LUMB, Edgar
Head
24 
1887
Farm Labourer
Halifax 
3
LUMB, Eleanor


Wife
23 
1888
Halifax 
4
LUMB, Alice
Head
48 
1863
Weaver Woollen
Sowerby 
4
LUMB, Ellen
Sister
42 
1869
Weaver Woollen
Sowerby 
4
LUMB, Martha A


Sister
35 
1876
Sowerby 
5
ACKROYD, John Herbert
Head
36 
1875
Milling Department
Sowerby Bridge
5
ACKROYD, Emma


Wife
33 
1878
Carpet Winder
Holywell Green 
6
BROADBENT, Henry
Head
64 
1847
Retired Cotton Doubler
Sowerby 
6
BROADBENT, Herbert


Son
27 
1884
Engineers Fitter
Sowerby Bridge
7
FOGG, George
Head
36 
1875
Brass Polisher
Mill Bank
7
FOGG, Alice
Wife
33 
1878
Occasional Worker
Halifax 
7
FOGG, Edith
Daughter
6 
1905
Sowerby Bridge
7
FOGG, Albert
Son
31 
1880
Railway Policeman
Mill Bank
7
FOGG, Florence
Daug in Law
27 
1884
Housekeeper
Todmorden
7
FOGG, Nellie


Grandaughter
1 
1910
Sowerby 
8
JENNINGS, David Wilfred
Head
35 
1876
Railway Collector
Triangle
8
JENNINGS, Agnes
Wife
38 
1873
Sowerby 
8
JENNINGS, Edith


Daughter
7 
1904
School
9
LUMB, Hannah
Head
74 
1837
Sowerby 
9
LUMB, Mary Elizabeth
Daughter
48 
1863
Woollen Weaver
Sowerby 
9
LUMB, Emily
Daughter
47 
1864
Woollen Weaver
Sowerby 
9
LUMB, Annie


Daughter
41 
1870
Woollen Weaver
Sowerby 
10
DRINKWATER, David
Head
71 
1840
Retired Cloth Presser
Greetland 
10
DRINKWATON, Ellen


Wife
71 
1840
Warley 
11
WHITEHEAD, Claude Lorraine
Head
48 
1863
Civil Engineer
Middleshire, Lancashire 
11
WHITEHEAD, Ellen
Wife
42 
1869
Wolverhampton, Staffordshire 
11
WHITEHEAD, Nellie Lorraine
Daughter
12 
1899
School
Alperton, Middlesex 
11
WHITEHEAD, Robert
Son
11 
1900
School
Alperton, Middlesex 
11
WHITEHEAD, Herbert


Son
4 
1907
12
CLAYTON, Arthur


Head
42 
1869
Piecer Dyrs Labourer
Sowerby 
13
GREENWOOD, Harry
Head
21 
1890
Joiner
Sowerby Bridge
13
GREENWOOD, Eliza Ann


Wife
21 
1890
Sowerby Bridge
15
WILSON, Arthur
Head
32 
1879
Carter
Sowerby 
15
WILSON, Hannah
Wife
31 
1880
Soyland 
15
WILSON, Annie
Daughter
6 
1905
Sowerby Bridge
15
WILSON, Fred
Son
5 
1906
Sowerby Bridge
15
WILSON, Nellie
Daughter
3 
1908
Sowerby 
15
WILSON, Hilda
Daughter
2 
1909
Sowerby 
15
WILSON, Jack


Son
1 
1910
Sowerby 
17
CROSSLAND, Mary


Head
71 
1840
Stainland
19
GREENWOOD, William Thomas
Head
41 
1870
Piece Dyers Labourer
Sowerby 
19
GREENWOOD, Mary Hannah


Wife
42 
1869
Sowerby 
23
GREENWOOD, Bennett
Head
37 
1874
Assistant Newsagent
Sowerby 
23
GREENWOOD, Clara
Wife
38 
1873
Norland
23
GREENWOOD, Martha


Mother
71 
1840
Sowerby 
25
STANDEVEN, Hannah
Head
71 
1840
Sowerby 
25
STANDEVEN, Lily
Daughter
33 
1878
Woollen Weaver
Sowerby 
25
STANDEVEN, Annie


Daughter
28 
1883
Worsted Weaver
Sowerby 
27
STANDEVEN, Joseph Eli
Head
32 
1879
Hosiery Warehouseman
Sowerby 
27
STANDEVEN, Lily Hannah


Wife
31 
1880
Sowerby 
29
PICKLES, Willie
Head
34 
1877
Laundry Manager
Sowerby Bridge
29
PICKLES, Edna
Wife
36 
1875
Sowerby Bridge
29
PICKLES, Winifred
Daughter
8 
1903
Halifax 
29
PICKLES, Albert Willy


Son
0 
1911
Sowerby Bridge
31
HITCHEN, Mary
Head
63 
1848
Sowerby 
31
HITCHEN, Willie
Son
38 
1873
Railway Engine Driver
Sowerby 
31
HITCHEN, Sam


Son
26 
1885
Stone Mason Waller
Sowerby 
33
CROSSLEY, William H
Head
68 
1843
Retired Farmer
Halifax 
33
CROSSLEY, Sarah


Wife
55 
1856
Halifax 
35
LUMB, Fred
Head
27 
1884
Butcher
Greetland 
35
LUMB, Mary
Wife
21 
1890
Brighouse 
35
LUMB, Arnold


Son
1 
1910
Sowerby 
37
VINE, Robert
Head
60 
1851
Cotton Scutcher
Burley in Wharfdale 
37
VINE, Sarah Alice
Daughter
26 
1885
Wollen Weaver
Sowerby Bridge